I'm smack-dab in the middle of another week of zombie drug dealing graveyard shifts, but I'm still keeping one eye on the Internet. Here's what's piqued my interest this week.
But first: some shameless self-promotion!
Costco's Got More Than Just T.P. For My Bunghole
Are you a card-carrying member of Costco? As a longtime Costco addict (who especially digs the unique products at Costco's warehouse stores in Hawaii!), I was incredibly stoked to be interviewed for an article in the Costco Connection a few months ago. But nothing beats the news that our cookbook, Nom Nom Paleo: Food For Humans, is now being sold in hundreds of Costco stores across North America!
The fact that people across the continent can pick up copies of our book (at a steep discount!) while stocking up on batteries, sweatpants, diapers, and ginormous tubes of hair gel gives me the warm fuzzies. If you spy our cookbook at your local Costco, please snap a pic and tag me on Facebook, Instagram, or Twitter—I will love you forever!
Plus: attention, fellow San Francisco Bay Area residents! Henry and I will be signing books at the Mountain View Costco on Saturday, March 29, 2014 from 11am to 1pm! We'll scribble in your books as you shop for Kerrygold butter, coconut oil, mac nuts, and other Paleo staples. Who knows? We might even hand out some of our exclusive Nom Nom Paleo action figures while we're there. Click here to let us know if you're planning to come say hello in Mountain View!
(Don't worry: I promise not to inspect your shopping carts for packaged pasta and boxes of candy. I'll leave it to my mini-minions to do the dirty work.)
Austin, Here I Come!
Speaking of book signings, I had a blast meeting folks in Denver, Naperville, and Chicago last week (and hanging out with friends like Juli, Diana, and others) — thanks to all of you who came to say hi!
Next, I'm heading back to Austin, Texas in early April for Paleo f(x); while I'm in town, I'll be doing a mega-awesome joint Q&A and cookbook signing with my pals Melissa Joulwan, Diana Rodgers, and Arsy Vartanian at the Barnes and Noble at The Arboretum. Please come by and meet all of us on Thursday, April 10 at 7pm! 
To RSVP and scope out all the deets, click here!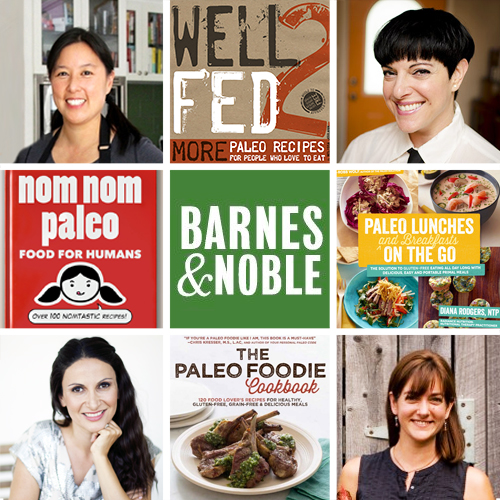 Bacteria Love Chocolate, Too
Now, onto the good stuff—and by "good stuff," I mean CHOCOLATE!
Longtime readers of my blog know that I have a special place in my heart for super-dark chocolate. Luckily, it turns out that my daily indulgence is actually feeding the healthy bacteria in my gut. Researchers recently discovered that certain bacteria in our stomachs gobble up the chocolatey goodness and ferment it into compounds that reduce inflammation in cardiovascular tissue. Score!
If you choose to eat chocolate (HA! As if eating chocolate is a CHOICE), always make sure that it is ethically sourced. The amazing Tsh Oxenreider recently posted about the ugly side of chocolate production and the importance of supporting purveyors that produce chocolate the right way. My current faves are AlterEco Blackout and a recent discovery: Videri 90% Dark Chocolate Bar.
I'm always on the lookout for great chocolate, and this recent tweet from Francis Lam caught my eye:
Damn @viderichocolate your 90% bar is CRAZY. Tastes like peanuts, ash, and cheese. Smells like jasmine tea too. Rad!

— Francis Lam (@Francis_Lam)
The taste of peanuts, ash, and cheese? Sign me up! I immediately bought a few bars online, and as soon as I got home from Chicago, I unwrapped one of these award-winning bars and bit into it. Verdict: it's one of my new favorites! The texture is smooth, the flavors are complex, and I love the passion of the couple behind the chocolate:
If you're a chocolate connoisseur, you're going to want to taste this.

Breaking News(?): Saturated Fat Won't Kill You
It looks like saturated fat might not be so bad for you—but you and I already knew that, right?
More Paleo Books on the Horizon!
It seems like every few days, a review copy of a new Paleo book is magically appearing on my doorstep. To be honest, I'm starting to have trouble keeping up with all the titles, but this week, I'm excited to be flipping through:
Stefani Ruper's Sexy By Nature: The Whole Foods Soultion to Radiant Health, Life-Long Sex Appeal, and Soaring Confidence. Yowza. Stefani show you how to fuel yourself with real food, take charge of your self-confidence, and strut around like the fierce chica you were meant to be.
Mickey Trescott's The Autoimmune Protocol Paleo Cookbook is downright beautiful. If the AIP approach is supposed to be more restrictive than regular Paleo—no eggs, dairy, nuts, seeds, or nightshade vegetables—you'd never know if from the wonderfully inventive and deliciously original recipes in her cookbook. If you're following AIP, you must check out Mickey's book—pronto. 
Last, but not least: The Paleo Foodie Cookbook by my fellow epicure, Arsy Vartanian. In Arsy's gorgeous follow-up to her popular debut, The Paleo Slow Cooker, she offers world-class gastrotourism in the form of incredible dishes from around the world. I especially love that the book features a number of Middle Eastern dishes—I can't wait to throw a Paleo Persian dinner party at my house!
Chicago Eats
Recently, I've been too swamped to write up lengthy posts about dining out; plus, if Henry isn't around to capture everything with our DSLR, it just ain't happening. Besides, I like to enjoy my food more than I like to document it, so my compromise is to simply snap an Instagram of the grub in front of me before I gobble it up.
This past weekend, Diana and I ate our way around Chicago. My favorite stops included the new Eataly Chicago…
…Senza, where we treated ourselves to a fantabulous multi-course gluten-free dinner…
…Sable for brunch…
…and a hearty dinner at Publican. If you're wondering what happened to my daily food pics and you're not following me on Instagram, do it already!
Goat's Good For Everyone
One of my favorite presentations at this year's annual IACP conference was entitled The Goodness of Goat. The two chef-presenters, Amy Riolo and Luigi Diotaiuti, made a strong case for why goat should be on everyone's table: it's versatile, sustainable, and (believe it or not) the most popular red meat eaten worldwide. Plus, goat is downright delicious.
And cute, too.
I've pledged to prepare goat more often. And in fact, for one of my first meals back at home, I used goat instead of  pork in my recipe for Slow Cooker Cheater Pork Stew (and pressure-cooked it for 35 minutes instead of slow-cooking it). When I presented it at the dinner table, everyone—including my picky children—raved about the tender and flavorful "baby beef."
Recipe Corner
If you've read our cookbook,

Nom Nom Paleo: Food For Humans

, you know that I've had a thing for cake since I was a little squirt. I rarely indulge these days, but the next time I do, I'm going to try Spunky Coconut's

Paleo Chocolate Cake

. It's nut-free, grain-free, and dairy-free!
Want a delicious family-friendly entree? Make these

Crispy Coconut Chicken Nuggets

from Studio Snacks!
Melissa Joulwan's

Persian Roast Leg of Lamb

is perfect—especially now that spring has sprung!
Bye for now!
---
Looking for more recipes? Head on over to the Recipe Index. You'll also find exclusive recipes on my iPad® app, and in my New York Times bestselling cookbook, Nom Nom Paleo: Food for Humans (Andrews McMeel 2013).